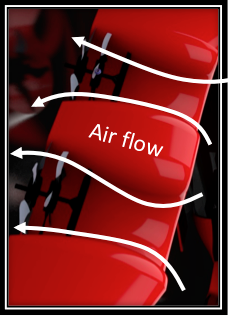 Key Aerodynamic Principle
Air is drawn into the channels by the contra-rotating propellers.  The channels have an aerofoil shape, which generates high levels of wing-borne lift as the air is accelerated through the channel, even when the aircraft has zero forward airspeed.   These high levels of lift have been demonstrated through flight test & NASA wind tunnel data on other aircraft.
Additionally, the design reduces complexity, total parts count and aircraft weight, which further boosts the design efficiency.